From afar, the bay of Mari Pintau, looks absolutely like a painting. With its breathtaking beach made of polished stones that thin out until the deep blue sea.
The transparency of the water who plays with the sun and white sand creating light games. The pine forest and Mediterranean scrub that complete this breathtaking scenery, unique in its genre. Its beauty attracts those who love underwater fishing and snorkelling or those who just want to relax and immerse themselves in an almost unreal scenario.
How to get to the beach of Mari Pintau?
The beach of Mari Pintau is located in the municipality of Quartu Sant'Elena, in the village of Geremeas, almost 30 km from Cagliari, towards Villasimius. From the county road 17, that you take to get to this magical place, despite numerous bends, you can enjoy beautiful scenery, in the distance you can see other parts of the coast and other equally lovely coves. Once you have parked your car, a few steps and you get to the beach.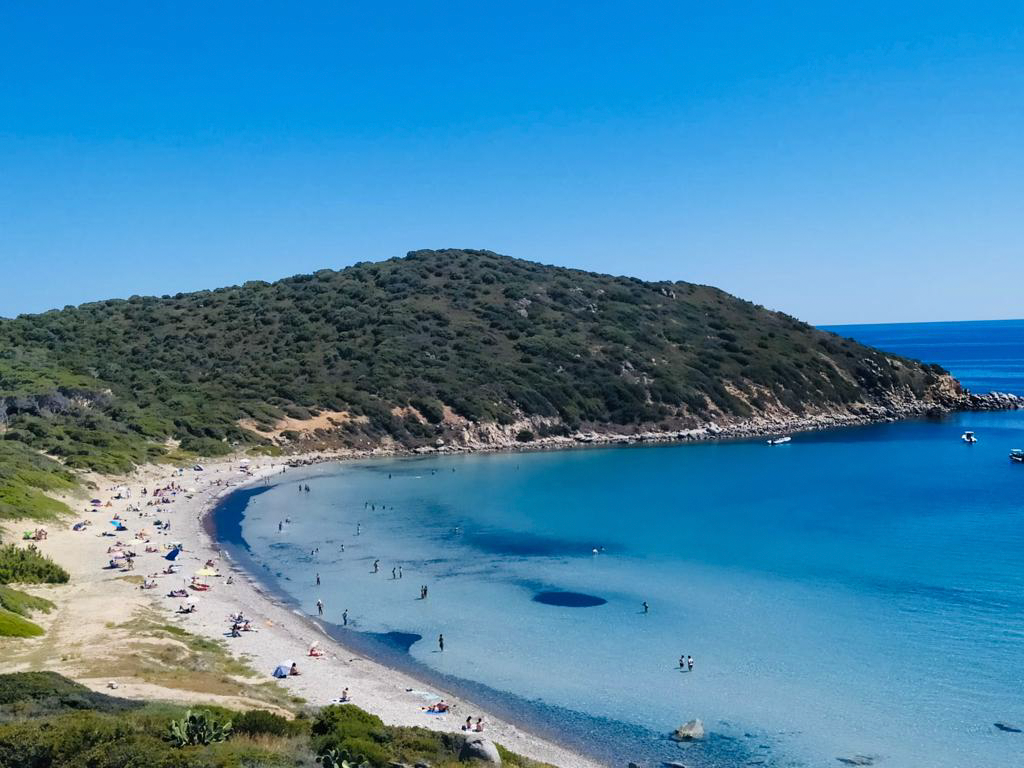 The magical atmosphere of Mari Pintau beach
Mari Pintau beach is reachable along a trial surrounded by thick vegetation whose species are typical of the Mediterranean scrub. In front of your eyes there is something like a painting painted with the colors of the sky, the white sand, the green of the vegetation and countless other colors that are born by the play of light made by the sun reflecting in the emerald green of the sea. In fact, the name of this almost unreal place means "painted sea". Across the bay, everything looks like a painting.
The beach: looks like a carpet of smooth pebbles, polished by the sea. As soon as you get in the water, the stones give way to a backdrop of very fine white sand.
Vegetation: behind the beach there is a pine forest and Mediterranean scrub.
The sea: the water has an intense color that goes from emerald green to turquoise blue almost like a painter's brush strokes and the seabed is low and sandy.
The atmosphere: the bay is well protected from the wind, especially by the Mistral, therefore water is often calm.
In order to better live Mari Pintau beach
Mari Pintau Beach has no equipped parking, so you have to park the car on the road, on a stretch of dirt road off the roadway. Then proceed to a dirt driveway surrounded by Mediterranean vegetation which leads directly to the bay. The beach is equipped with some services, such as bathrooms, showers and you can rent umbrellas and sunbeds too. We suggest you to bring along some rubber shoes for walking on pebbles. During the summer time the beach is very crowded. If you love scuba diving or snorkelling, this bay ensures a really exciting experience. If you are looking for a place where you can interrupt your daily routine, you just need to stop there and soak in its colors.