The beach of Santa Giusta is one of those places where you go to spend a relaxing holiday. It is no coincidence that it is one of the most popular beaches in southern Sardinia. In this inlet of rare beauty, everything contributes to creating an enchanted atmosphere.
The shallow waters and the presence of services, then, make it a favorite destination for families. It is the pebble beach of Peppino, the granite boulder, shaped like a turtle, visible a few meters from the shore, which takes its name from a fisherman, Peppino, who loved to go fishing in that place.
The beach of Santa Giusta, how to get there 
The beach of Santa Giusta is located on the eastern side of southern Sardinia, more precisely in the municipality of Castiadas, north of Cala Sinzias and close to Costa Rei. Starting from Villasimius, in fact, proceed along the provincial road 125var towards Costa Rei, then, when you reach Castiadas, follow the signs to Santa Giusta. Once the car is parked, a short stretch of road will take you to this beautiful beach.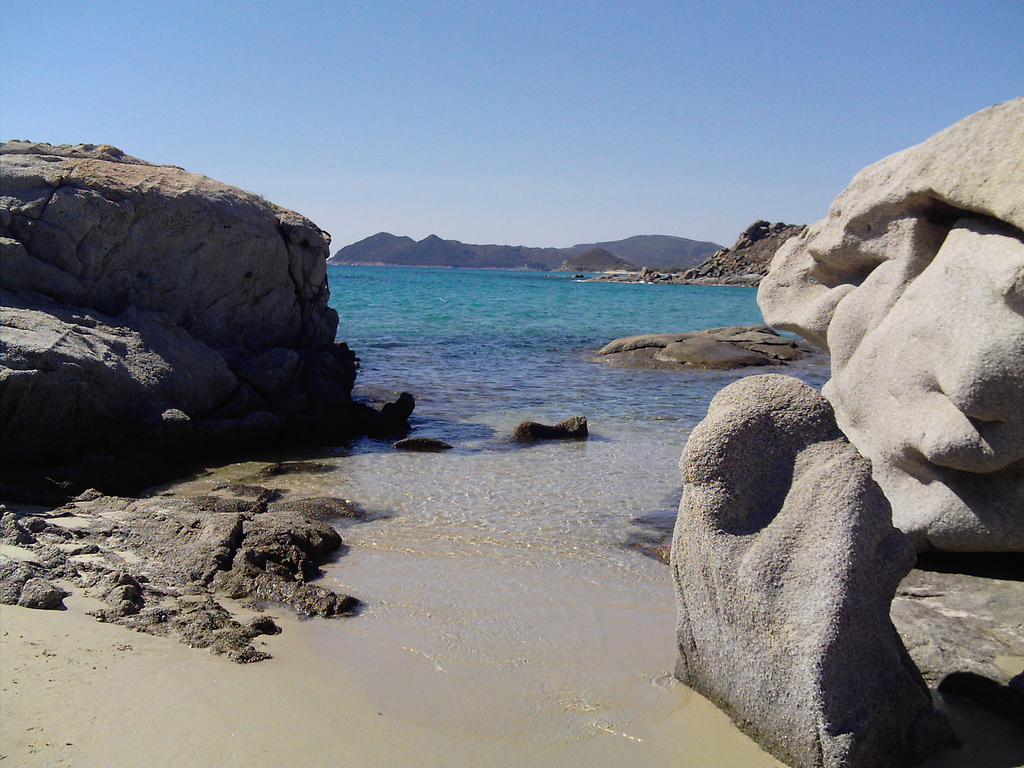 The beach of Santa Giusta and the rock of Peppino
On the side of the beach, a large rock of light-colored granite resembling a turtle, called the Peppino rock, emerges from the water. It owes its name to a fisherman, Peppino in fact, who seems to love to go fishing on that rock. Starting from the shore, in a few steps you will have reached it and you will be able to admire in all its beauty a dream scenario:
The beach. The bottom is made of white sand with fine-grained golden reflections mixed with gravel, which recalls the not far beaches of Costa Rei, while on one side is closed by a rocky cliff. Ideal for relaxing walks on the seashore.
The sea. The crystal clear water along with the reflection of the sun creates exceptional light effects. The bottom is so low that the water on the shore heats up almost to give the impression of being in a pool rather than in the sea.
The vegetation. The dune behind the beach is covered, as always happens in this part of Sardinia, by a thick Mediterranean scrub.
The beach of Santa Giusta, what you will find
This beach is a destination very popular with tourists, not only for the beauty of the site, but also thanks to the presence of services that guarantee a peaceful stay. It is possible, in fact, to stay the whole day by renting umbrellas, sunbeds, deckchairs and have lunch at the various refreshment points.
In the surroundings, there are plenty of facilities for fun and relaxation. If you have young children it will be a pleasure for them to swim in this sea mirror in total safety. If you have the possibility, instead, to make your holidays in low season it is advisable to choose this pleasant location, in order to fully enjoy this suggestive corner of Sardinia.